Between July 23rd and August 1st, the European Baseball Championships 2010 took place in Germany, in the cities of Heidenheim, Neuenburg and Stuttgart. I adore baseball and ordered my ticket for the final game on August 1st, 2010 already in February. Being able to watch an actual, official baseball game was a dream come true for me. Of course, I still long to see a baseball game in the United States, in one of the big stadiums, but the EM here was the closet thing I could get for now – and I enjoyed it immensely!
The weather was kind for a change. It had been raining the previous week, but on this Sunday there wasn't any rain in sight. When the sun wasn't hiding behind some clouds – I was so grateful for those clouds – it was unbelievably hot. I wish I had taken a hat with me. And I wish I had remembered to use sunscreen…. I actually ended up using the ticket as fan, I don't think I would have survived otherwise.
I don't think I can provide a good report about the actual game. While I usually tend to think I have understood the basic rules, some of the events left me quite confused. Suffice to say that the Italian national team won agains the Netherlands with 8:4. The German team won bronze. To me, the Italian team seemed to be better – or at least somehow more energetic and focused – right from the start. Although the first home run I have seen in my life was scored by the Netherlands. I think Italy had at least two home runs. The Netherlands tried to catch up with the Italians during the eighth inning, that's when it got exciting again.
Since this was my first baseball game I wondered….is a game always this long? They were playing for more than three hours. And a lot of the time, nothing much was happening. Is it normal that you get to see a gazillion (sorry, it felt like it sometimes, I can blame the weather) strikes? Or that a runner rarely gets past the first base? Still, I'm not complaining, it was a great experience and I am very happy I was able to be a part of it. The atmosphere and the audience were great. Of course, there was lots of music. Admittedly, I thought if they had been daring, they would have played "Wild Thing" at least once. Maybe that's too obvious and lame, I don't know. They had "Rocky" and Queen, that was fun as well.
Casualties: one baseball bat, three baseballs, my arms (sunburn) and my ears.
Small price to pay though.
One of the best things was that I was able to take a lot of pictures! I liked how some of them turned out. You can click on them to make them larger. Ready?



Reds Ballpark, credit goes to Stuttgart Reds

At the beginning, two paragliders flew in – to Bill Conti's "Gonna Fly Now" (the theme from "Rocky") – and landed on the field.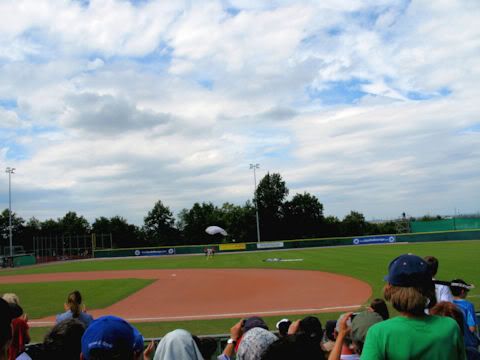 Unfortunately, I don't have any great pictures of it, but someone posted a YouTube video here: http://www.youtube.com/watch?v=cZyaw82GTj8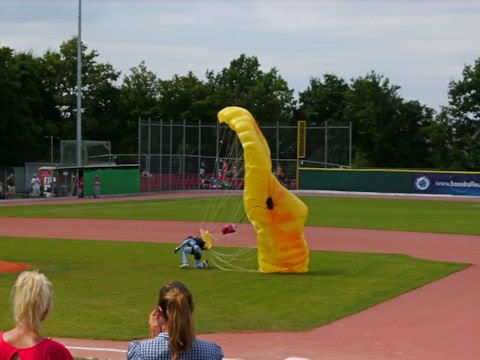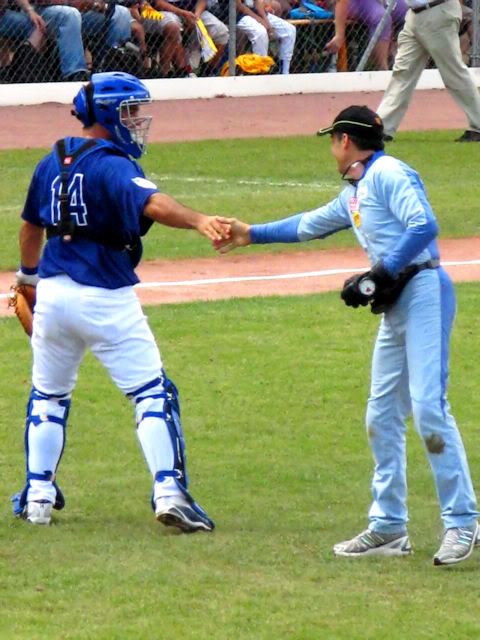 This is one of the glider pilots, Eberhard Gienger, Olympic bronze medal winner 1976.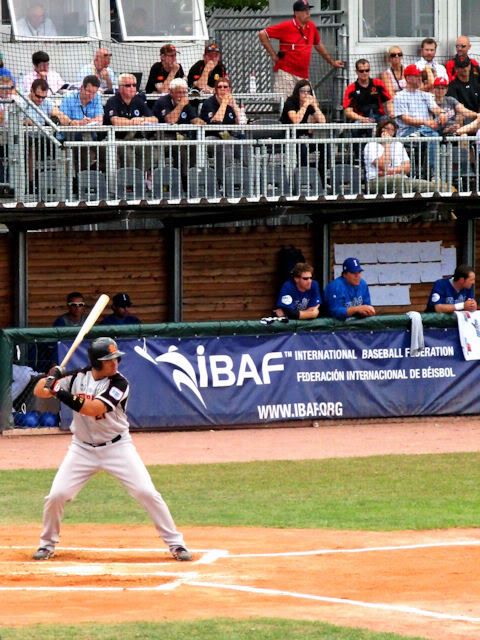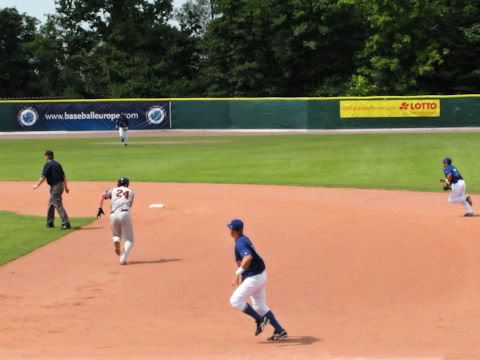 This, and the one below, are probably my favorite shots.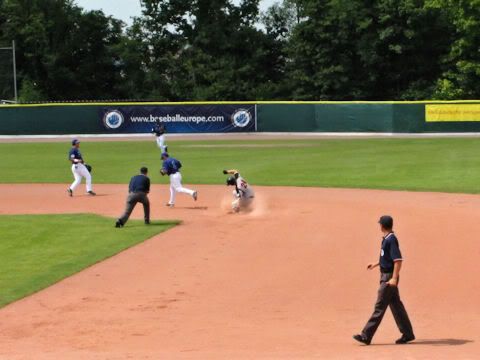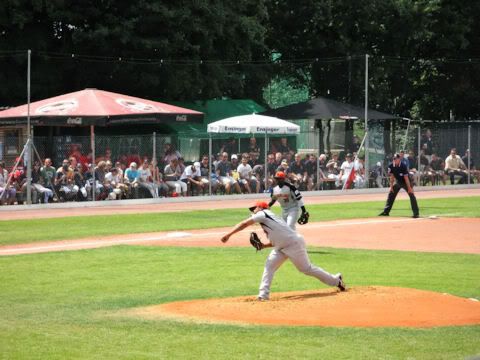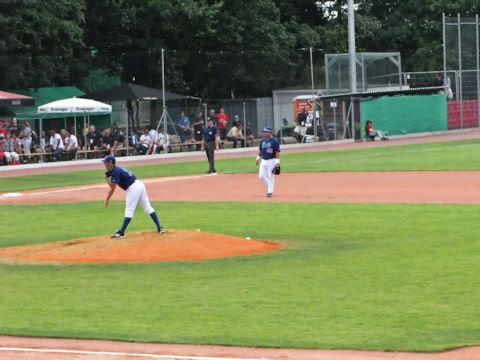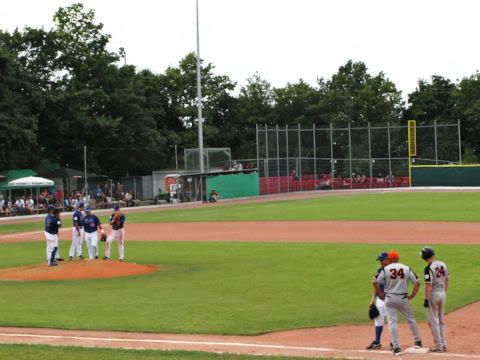 Okay, so this and the following two pictures is what the majority of the game looked liked.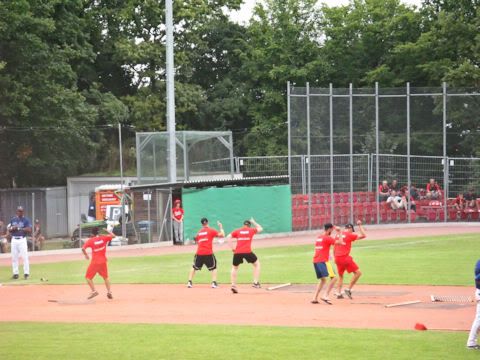 The ground crew dancing during a break. It was hilarious! Oh, and there are parts of the German team in the background.

Someone actually posted a video clip on YouTube: http://www.youtube.com/watch?v=tEuJIbCTZE4

If you look closely, you can actually see the ball flying here. I'm really happy I managed to take such a picture!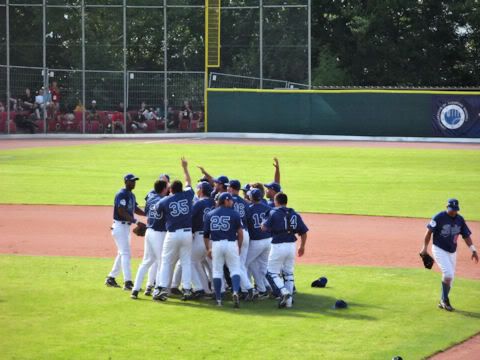 Italy wins!!!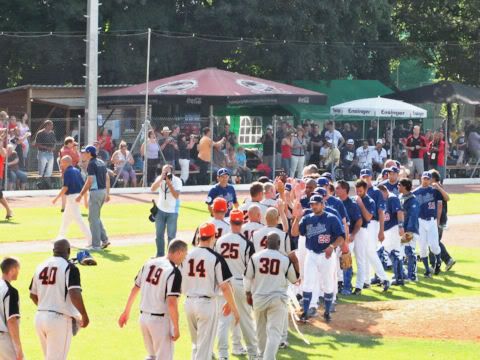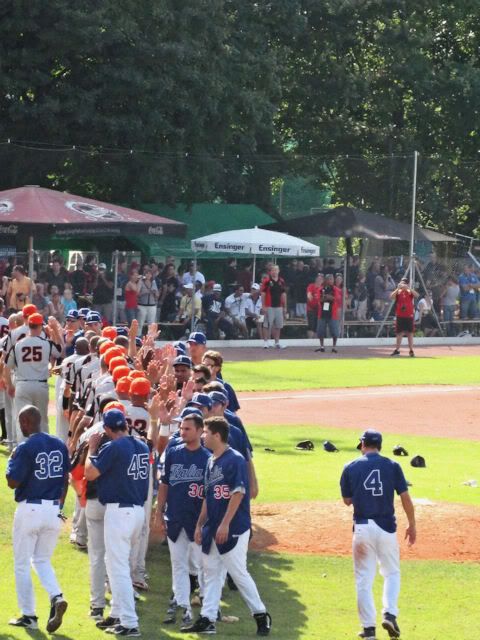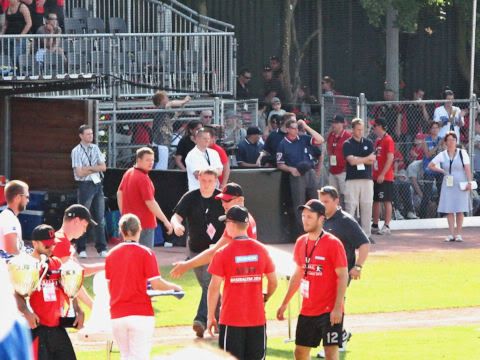 Apart from that, of course I couldn't resist getting some souvenirs…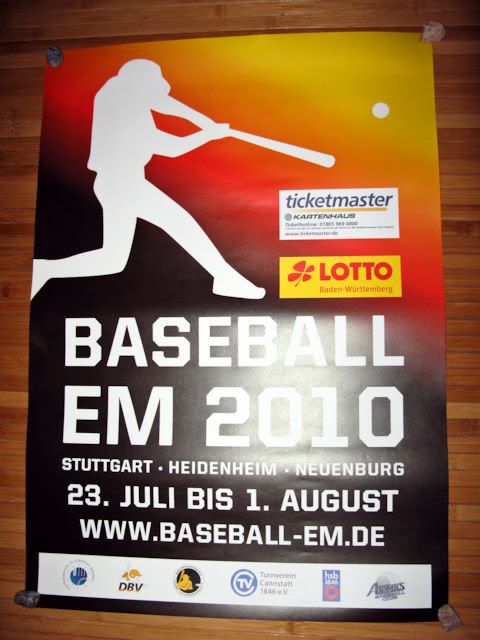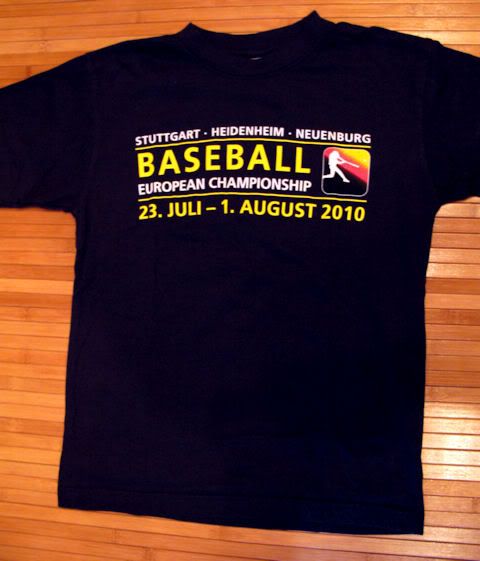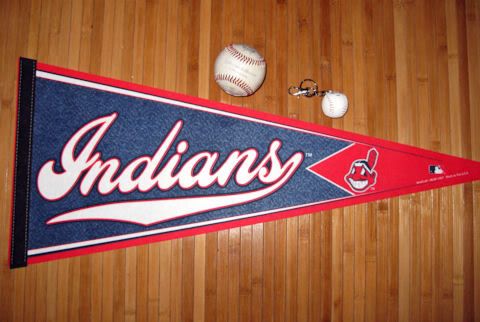 No way I could not get the Cleveland Indians pennant, or the keyring pendant. Oh, and that's my home run baseball.